Control
systems
Regulate to better control and manage. Our control systems are PLUG&PLAY and participate to the energy expenditure reduction, CO2 emissions (EN 15232). Designed for an easy installation, these equipments are the guarantee of a climatic comfort and optimal indoor air quality.
Control systems

Econological™ Solutions
Need help
You are looking after an information ?
Post your request or ask your question
CALADAIR is at your service
Contact
SYSTEMS TOP&DIVA™, air flow modulation zone
Kit for zoning, air flow rate modulation solution for all buliding applications
This PLUG & PLAY application is ErP compliant.
According to the ventilation system, two kit solutions are available :
- SYSTEM TOP™ which applies a 2-flow rate ventilation system
- SYSTEM DIVA™ which uses proportional ventilation

KIT MONOZONE™, air flow rate modulation kit limits loss of heat and guarantees air renewal suited to the building actual occupancy needs.
As a basic principle, the minimum flow rate corresponding to the room non-occupancy flow rate is around 20% of the nominal flow rate for a
MONOZONE™ type building management
Two solutions are available :
SYSTEM TOP™, 2 air flow rates ventilation, associated with the actual occupancy control of the room, detected either by a presence sensor or a CO2 probe, or a combination of both, the SYSTEM TOP™ solution provides, depending on the type of premises, gains of 35% in case of the "All or little" air renewal management system.
SYSTEM DIVA™, proportional ventilation, enables, with its proportional ventilation mode, gains of 65%.
Besides the obvious energy savings, both systems also bring improvements in air quality and acoustic comfort.
True PLUG & PLAY products, they are built with a IP65 Perspex box equipped with cable glands with knock-outs, a configured regulator (SYSTEM DIVA™ only), a 230-24V AC (40VA) transformer enough sized to power the system components and connections of components (probes, etc.) of the system.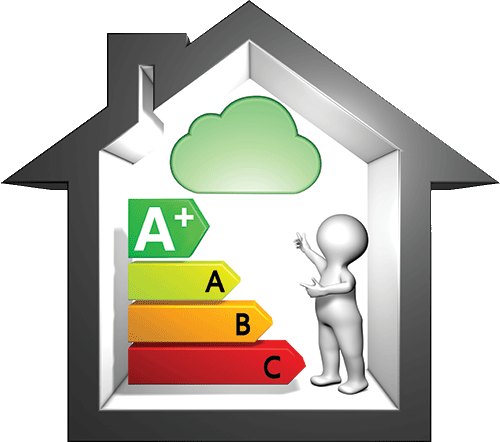 Solution in compliance with ErP2018 for office applications

PLUG&PLAY, SYSTEM TOP™ and SYSTEM DIVA™ boxes are wired, configured and tested at our factory